Mark Cohen first came to the attention of the photography world in 1973 with a solo exhibition at the Museum of Modern Art, New York. This iconic show proved to the art world that Cohen was the heir apparent to the explosive street photography of the 60s. Now, after more than thirty years, Cohen's complex and influential body of work is presented for the first time in Grim Street, an astonishing collection of Americana as original and effective as the work of Robert Frank, Garry Winogrand, or Weegee.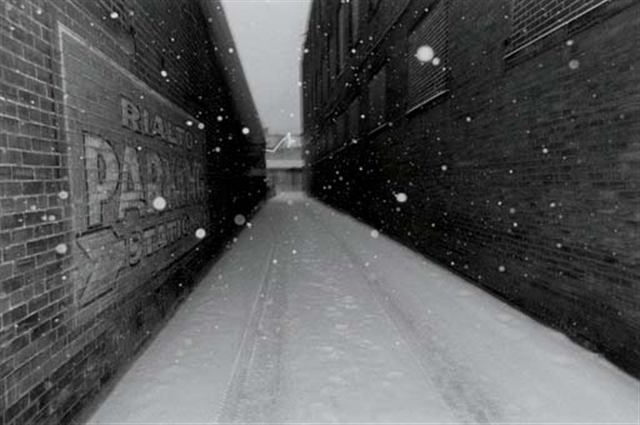 Cohen's photography confronts the viewer with a startling beauty, rapidly shifting from rough and confrontational to quiet, respectful, and serene. In
Grim Street
, filled with what Cohen calls "grab shots," you can easily imagine the photographer guilefully patrolling the streets of Wilkes-Barre, the Pennsylvania mine-town he calls home. His camera, often prefocused and shot from the hip, scrolls around its subjects searching for tidbits of delectable detail. Then suddenly thrusting out towards its subjects, a strobe bursts, capturing a violently cropped spot of stockinged legs creeping around a corner, or a woman's bared teeth and stretched lips. In these images emerges a cluttered world of visceral, sexualized encounters with the human body.
The photographs are equally fascinating for the inconsistent reaction of their subjects. In one shot, a group of young girls hide their faces with their coats and cower against a brick wall, desperately searching for any protection from Cohen's camera. Another shot brandishes a dapper young man, hair greased and comb quickly pulled out for the glamour shot. But just when you think that you can't see the photographs for all the noise, Cohen's camera stands back in meditation, displaying sensitive compositions of the gardens of Wilkes-Barre and the small town's residents engaging in their daily comforts. One of the more complex bodies of street photography around, Cohen's work will open your eyes as wide as they can go and keep you flipping the pages for years to come.
"Cohen's black-and-white photos…are deliberately disconcerting, almost vulgar….Heads are cropped out of the frame; truncated hands, legs, and arms loom monstrously into view; perspective warps. Cohen wasn't alone in his harsh, comic view of down-home America, but his in-your-face take and fragmentary results were jarringly unique, and much imitated." —Vince Aletti,
The Village Voice
A second book,
True Color
, followed in 2007. Rich with the subtle colors of the seventies,
True Color
is a tour through Wilkes-Barre, the Pennsylvania mining town Cohen calls home, from the vantage of this unique artist. Originally an experiment in the difference between color and black-and-white photography, the pictures included in
True Color
, commissioned by the George Eastman House, became a project of their own. Cohen captures faces and actions from the ordinary to the bizarre, documenting life as it was lived on the streets on Wilkes-Barre. These photographs are an astonishing collection of Americana, and a complex testament to the vision of one of the era's most intense and successful photographers.
Vince Aletti relates in his essay in
True Color
that Cohen had several visits from police and an irate husband. People's increasing suspicions and changes in society meant that over the years, Cohen gradually took a few steps back from his subjects, he explains "I got farther and farther away. I started with a twenty-one millimeter lens, then I moved to a twenty-eight, then a thirty-five, and now I'm using a 50."
Check an interesting video about Mark Cohen starting from 1'40''